Clear Vision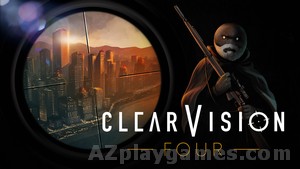 Clear Vision
Clear Vision is a simple flash game of stickman figures. You are a trained sniper and become a killer under anyone's contract. Your task is to shoot a gun on the object required to complete each mission given.
You will go to your office and check your computer regularly for new contracts and read through the instructions to destroy the right target.
Remember the object you need to shoot to die than go to the scene and find the right object and kill him. Each purpose is in very different circumstances, there may be many people there, and you need to read the contract carefully to complete the mission in the first shot, avoiding shooting at innocent people. Your target can be one person, two people, or many people, and when you miss or let them detect, they will quickly escape, then you need to control the gun and pull the trigger skillfully.
Each mission corresponds to a level. Complete all levels to become the best sniper in this game.
Clear Vision game requires players to be able to judge and remember and aim accurately and quickly to complete each task assigned.
After completing each mission, the player will return to his home, maybe take a break, make some moves, and continue to go to the office to see the next object to destroy.
Along with performing contracts, you will learn about your dark past, even though it is evil and cruel, but you can not do anything else, you are familiar with what you do and make money from this. You also do not have to bear any legal responsibility for your work, so you keep doing your excellent work.
Clear Vision game has violent images, so it does not encourage children to play, the game is only for adults and can control their behavior. The game has just entertained them after a day of hard work and study and is also a very useful time-killing game.
How to play Clear Vision game
Use the left mouse button to perform targeting and aiming actions.
To complete the task quickly and accurately, you need to read the contracts and accompanying instructions and look exactly carefully.