Monkey Go Happy 6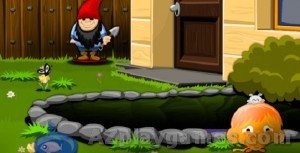 Monkey Go Happy 6 is a children's game that many parents have chosen because the monkey character image was built very funny. Besides, the interesting game screen system, both entertaining but also comes with an intellectual element, helps children train their intelligence, agility and good observation ability.
Through each new version, the game has always received the attention of a large number of players and set the premise for game publishers to focus on writing new, better and more attractive content for later versions. Following the Monkey Go Happy series, the game includes many levels, each of which is a different challenge waiting for players to explore.
In the game there are very simple logical actions that will still attract you. Our monkey always wants to find some fun to make me all sad. Help the monkey to be happy by clicking on the necessary objects in each game screen in the correct order, to link together into a logical action sequence. And then, they will happen very interesting things to make him happier, more smiling. Like a game of intellectual fun, you will have more moments of relaxation refreshing. The way to play is not different from the funny Monkey Go Happy game in the first version, very easy, you will use sharpness and streamline to be able to complete the game in the best way.
The image of a monkey with a sad face and familiar gameplay will make you easily attracted to the logical and rigorous structure of this game. As a good online game, the game Monkey Go Happy 6 will be a flavor that makes your life more loving and richer. You will have much fun like a monkey in this funny game. Please enjoy enjoying this unique game.
How to play
Use the mouse to perform operations.