My Friend Pedro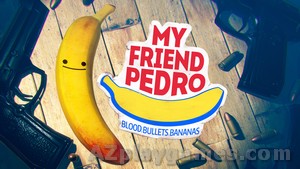 My Friend Pedro is a violent "ballet" about friendship, imagination and the battle of a man who wants to eradicate all the people who are in the way at the behest of a banana. You need the advice of a banana to perform tricks that only appear in movies and not in az games.
My Friend Pedro is a true action shooter. Instead of standing still or moving very little to aim and kill your target, you'll combine techniques of separate targeting and slow-motion to take them down. My Friend Pedro allows you to surf skis in an abandoned construction site because politicians disagree on the font printed on the nameplate, one of the two protagonists capable of dodging bullets at the push of a button, and That character is a talking banana.
My Friend Pedro is a relentless fight – alone against the Mafia. You can swing rope, jump walls, climb, somersaults… to destroy each enemy one by one. You will be rewarded with points for creating unique lighting scenes – such as shooting at a pan to lower targets, flying in the air while fighting.
In the violent and brutal world of the game, you need a smart strategy – combining aiming, slow motion and dexterity to shoot down those who stand in the way. The whole game world becomes a fiery bomb arena that you cannot ignore even for 1 second. The faster and stylishly shoot down the enemy, the higher the points you get, and this creates the impetus to keep you moving forward to find new opponents.
My Friend Pedro's gaming environment can be destroyed, where you have to control your weapons and your body well. Turn over and aim in the air while aiming with both hands. Enemies can appear anywhere – in front of, behind, behind, or hiding somewhere. Staying focused, alert and quick reflexes are the key to this game's success. Gamers need the guidance of a banana to perform tricks that are usually only shown in movies and not in the game.
How to play
Use the arrow keys or AWDS keys to move
Use the left mouse button to aim and shoot attack
Use 1,2,3 keys to equip weapons.
Slow down time with Shift or Space keys to avoid bullets and make perfect shots.