Stick Figure Badminton 3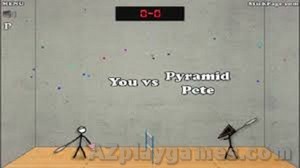 Stick Figure Badminton 3
Stick Figure Badminton game is a famous badminton game. Stick Figure Badminton 3 is the third installment of this game. If you are a badminton fan then you definitely cannot ignore this game.
To play the game you need to choose a character for yourself. These characters all have the same skills. Then you join the game and try to win as many points as possible. You will be the winner if your score is higher than the opponent.
If you are new to this game, you may find it a bit difficult to play but just a little practice time you can play very well.
Each person can move up and down different positions to operate, jump up, and look carefully at the path of the ball to get the correct movement.
The match results will be displayed by the scores of the two teams in the middle of the game screen, letting each team know what they need to do to win.
You can move up and down the range of the court, jump up to make beautiful shots and the main goal is to fight so that the opponent cannot fight back. If you practice hard, your ability to throw and attack the ball will greatly improve.
Stick Figure Badminton 3 game keeps you entertained very well after your hard work and study days, and helps you practice your ability to play badminton online so that when you play, you will also be able to perform movements exactly.
How to play Stick Figure Badminton 3 game
Stick Figure Badminton 3 game uses the left mouse button to select players and game modes along with some other operations.
For the first player, press the W key to help the character jump and move the character with A and D, then press the S key to hit the ball.
For your next player: use the left and right arrow keys to move the arrow keys to jump, the space bar to hit the ball.
M to turn off the music when you do not want to have noise.
ESC to exit the game if you do not want to play anymore.