Subway Clash 3D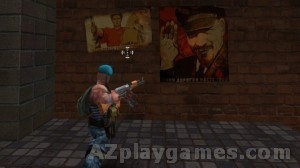 Subway Clash 3D
Subway Clash 3D is an exciting subway shooting games. The game takes place on the subway with a lot of objects, when you and your teammates must destroy a lot of dangerous enemies.
You will participate in competing as teammates, and each person can go in different directions, or you go close to your teammates to support each other to destroy the enemy. Of course, when you go with your teammates will be more beneficial than you go alone when the enemies are crowded and dangerous alone. You can hardly destroy you.
Your character is provided with a certain amount of blood. It will be exhausted when you are attacked.
You can move across battle terrain, use your existing skills to grab items such as guns, bloody, and kill your enemies. You can also take advantage of the ground, use sandbags or columns, and a lot of things in it to shield yourself against the opponent's raid.
3D game is going on exciting with many players, hunt for enemies to destroy them all and become the most active player.
Each game has a time limit, when the time is over, you will end the game, and a ranking will appear to compare your achievements and other players. If you kill a lot of enemies, you will gain the top position and become the best player in the game.
Subway Clash 3D game requires you to be agile, flexible, and accurate to kill more enemies and not be destroyed by them.
Compete with other players around the world to become the best player and top the leaderboard, share your accomplishments with everyone through social networks, and invite everyone to play.
How to play Subway Clash 3D game
Use the arrow keys or ASDW keys to move, spacebar to shoot.
Note when the enemy appears more than you need to run away or find a favorable position to hide quickly.