Big Bad Ape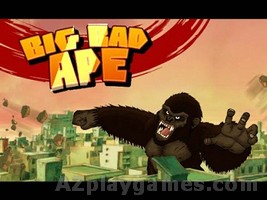 In the Big Bad Ape game, you transform into a giant gorilla-like King Kong, escaping from a testing facility and rampaging through the city and seaport. Your mission is to free hatred of humans by destroying an entire city, causing destruction, creating a massacre everywhere. Smash into everything you see on your ways, such as people, cars, and buildings, hop on cars, hit people when you try to make buildings collapse. You can crush buildings, throw cars and eat people. Nearly everything in your path can be destroyed. Jump on the roof for a better way to launch your victim. The more chaos you cause, the higher your score.
Watch out for the small armed guards that will stop you, even soldiers with rifles and even fewer army tanks and special forces helicopters. The raw power of gorillas and its incredible power were enough to terrorize all the people you meet! No pity, devour everything you find, destroy all living things and destroy cars, buildings, and boats.
Bring to the big city to entertain the ignorant masses, turntables with your captors and entertain you by flattening this place and eating it all. When the police and the army are informed of your power trip, deal with more difficult and dangerous enemies.
How to play
Use arrow keys to move
Use the SPACEBAR to sabotage.