Canoniac Launcher Xmas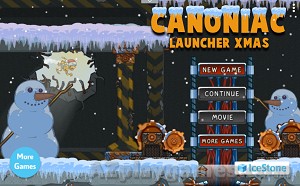 Come to the Canoniac Launcher Xmas game to enjoy this wonderful Christmas version! You will control Jimmy, a small mannequin who wants to become a mannequin. His dream is to be launched into the air all the time. Spend on upgrading your cannon and weapons.
Funny gingerbread man wants to check, how to release pomegranate, although it is not completely normal, and Christmas. He sat down in the bin and …. then he didn't remember, because it came out of the electric photo. He flew very fast, but still tumbled in the air. Now, he probably won't want to experience familiar mechanisms.
How to play
Use the mouse