Epic Battle Fantasy 3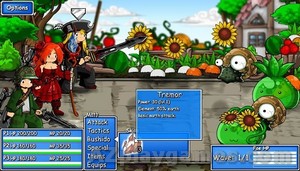 Epic Battle Fantasy 3
Epic Battle Fantasy 3 is an adventure game seeking the stolen power of three hero characters Matt, Natalie and Lance. They will go looking and have to fight monsters to find the stolen energy. They have to fight more than 70 types of monsters, collect more than 80 types of equipment and use more than 80 skills and magic.
Monsters are crowded, and they find ways to harm them. You will play as heroic characters fighting monsters. Each character you own has different weapons and skills. You can use the ability to increase HP or MP, increase the ability to fight or protect characters from enemy attacks.
HP is the highlight and MP is the magic point of each character. If you run HP points, you will die and will be revived with coffee or be revived, and you need MP to create magic. As you win each battle, you will receive rewards to help reinforce the characters. You will also receive EXP (experience points – help your character level up) and APs (ability points – help them learn new skills and upgrade old ones). You can also improve equipment, add elements to attack, increase the power of specific skills and other rewards.
To win this game, you must have a reasonable strategy to use weapons to attack the characters of the enemy. If you are an action game lover, you definitely will not miss this exciting game.
How to play Epic Battle Fantasy 3 game
Epic Battle Fantasy 3 game is played by left-clicking to perform actions and combat as well as many other actions.