Happy Wheels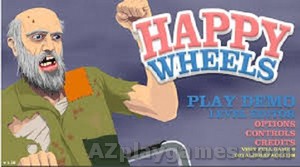 Happy Wheels
Happy Wheels game is a racing game with a large number of players. You can choose game modes and characters as well as racing cars before starting the race. There are many types of cars for you to choose racing and each car always has a different function, there are wheelchairs, bicycles, 1 wheel vehicle… Choose a favorite car and feel its greatness when racing. With function keys such as leaning, jumping, braking will make you feel excited because of the high flexibility of the game. However, your task is to overcome all obstacles, including very deep and long holes.
There are many game modes in this game, from easy to difficult, you can choose any mode.
Obstacle Course: This is the simplest part, but also full of suspense and difficulty. You need to overcome all obstacles treend seem to race and finish safely. This section will help you practice your skills and shoot before you start playing in more difficult modes.
Gut Bus Extreme: At this level, there are heavy tests with all the characters. Spacebar sticks to the inside of the bus, you will move based on this bus. Grasp physical changes and cause unpredictability. If you create a new version, you need to login with the application.
BMX Park II: At this level, you can make bigger jumps, bigger loops, and higher speeds. Keep an eye out for more spikes, mines and a new grinder.
Your character is also greatly affected by the effects on the race track full of dangers, maybe losing some parts of the body, causing bloody to spurt out into rays and a lot, possibly losing. completely life. Those images are really quite scary, so players should also consider when participating in this game. You should consider when playing this game because after the accident there are scary images.
Happy Wheels is not for children because it has horror images that will affect the physiology of children, make them scared or obsessed and can learn the actions in them.
This game will bring you interesting surprises, along with horror images. If you like this game, please recommend it to your friends to play with or you can play other games at our site.
How to play Happy Wheels game
Arrow keys to move.
Spacebar for main action (after pushing: Grab).
Shift / Ctrl to perform secondary actions.
Z to push out.