Haunt The House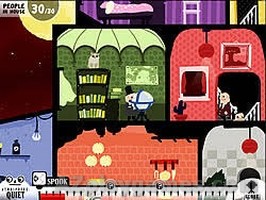 Haunt The House is a game with top-notch graphic design and art including James Zebra and the image of the blue rabbit is a classic. Charismatic phrases are used to make the game more engaging and it's action-packed with people jumping off walls and running around on the floor and in the room. An additional feature that allows other ghosts to share a house with your main ghost character is also occasionally available.
Sometimes playing a simple, uncomplicated game is all you need at the end of the day to relax and unwind. The game is entertaining, fun and very simple to play, even a child can control the side scroll keys to control ghost characters. The game is a puzzle with ghosts that scare people and kill people with the ultimate goal of re-owning items in the house during the midnight before dawn.
What gives this game some of its interesting elements is described by the reaction of the characters when they are scared of ghosts. They describe their horror by screaming, throwing their hands, and sticking their tongue out in horror. This is a very funny reaction and will make you grin during the game. The Haunt The House game also has clever and interesting twists and unexpected elements such as when someone unexpectedly commits suicide by jumping through a window on the third or second floor of the house, before the player catches up. time to kill them.
If you play the game enough to kill fewer people and make more people afraid than you kill, then you can finally get the highest reward being Grade A. The purpose of this game to bring you the perfect ending will make You are satisfied and yearn to play again and again.
How to play
– Use the Up / Down / Left / Right keys to move and use powers
– W / S / A / D keys to move and use powers.
– Use the space bar to own items.