Kingdom Rush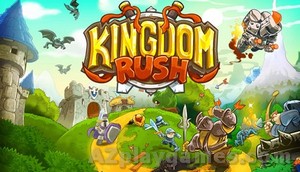 Kingdom Rush
Kingdom Rush is a game that protects your kingdom from enemy attacks. You will defend your territory by building many towers capable of attacking. The game will help you train your tactics and use people in every battle.
You have to fight with enemies in multiple locations at the same time. After defeating the enemy, harvest the useful items and unlock the next level. In each area, you have to destroy enemies and do not let them move to the end of the way. The enemies will move into classes, following a particular way with a growing army both in number and ability to fight.
You build solid towers where available. Each tower will have different fighting abilities. When combined, they will become a powerful military force to help you protect your kingdom.
You will fight in many different terrains with many different enemy troops, and you need to have your defence strategy, use rain to shoot at your enemies, add reinforcements, command your army. Move to another place.
To build towers, you are provided with an initial amount of money, after defeating enemies, you will receive additional cash and use this money to buy upgrades.
If your enemies are too strong, and the towers cannot destroy them, you need to buy more towers with new upgrades. You can sell the towers for money and get a place to build new towers.
There are eight specialized tower upgrades to customize your strategy along with more than 18 tower abilities to battle more than 50 different enemies.
After each win, you can choose the champion to lead your army, each with different abilities and strengths.
How to play Kingdom Rush game
Use the left mouse button to select upgrade and all other actions.