Run Ninja Run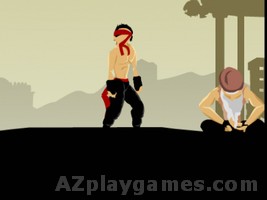 Run Ninja Run
Run Ninja Run game is an action game of the actions of a ninja. Your ninja character was captured and imprisoned, hanging his arms on the beam and he fled. Your ninja will automatically move forward; you will control the ninja to avoid obstacles and kill other ninjas.
You will lose your life if you encounter deadly traps so that you need to buy high jump skill upgrades. There are many pitfalls that you cannot foresee, when you lose your life you will play again from the beginning of that level. Sometimes the loss of experience will help to figure out what the road includes and have the proper preparation.
You have to jump over the rocks and crawl below them at the right time and use the right attack kick to defeat the ninja your way. There are lots of gold bars along the way, accumulating them to buy upgrades for your skills to jump higher, slide more or increase your attacks.
All your updates require a certain amount of gold. There are many levels with difficulty levels, challenges, gold blocks and tons of other ninjas, all of which will increase your attractiveness. Scales with more significant difficulties and challenges, if you do not buy upgrades, will not pass.
This game requires you to flexibly handle situations to be able to conquer many levels in the game and conquer the game. This game will be exciting with unexpected challenges.
With Run Ninja Run game, the new players may be a bit difficult to play, but just after some time will adapt to the game, be careful not to get addicted when not knowing. Currently, the game has a lot of players and positive feedback, so this game also has the next version.
How to play Run Ninja Run game
Use you up and down arrow keys to jump and slide, use the spacebar to attack, use the left mouse button to buy upgrades for ninja techniques.