Sherwood Shooter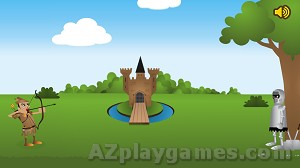 Sherwood Shooter is an archery game. Your task is to perform archery exercises. You must hit the apple on the head of another knight and not on that knight. After each level, the distance will be increased.
In this action-packed archery game, all you have to do is hit the apple. The thing to watch out for here is that nothing happens to your friend. You can use your computer mouse to do this.
How to play
Hold the left mouse button to tend the arch, aim the arrow, and then release the mouse button to shoot.