Swords And Sandals 2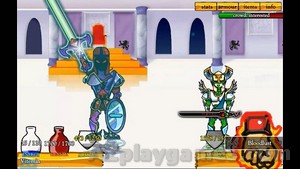 The Colosseum is a convergence of duel battles between ancient gladiators. Joining Swords and Sandals 2 game is a way for you to recreate those famous matches, prove that you are the strongest fighter in the arena.
With the Swords and Sandals 2 version, the gladiator will also give players shops with sturdy armor, sharp swords and especially stadiums full of viewers. Let's join with the strong boxers to show extraordinary strength to earn the respect of the large audience watching on the stage.
Your ultimate goal in the Swords and Sandals game is to defeat all championship arenas and dynasties as champions fight for themselves, try a different strategy.
You go there and try yourself in the role of a gladiator to win the love of the public. The first step is to create a new character that will gain fame. Distribute the properties and go to your first fight. You can go to the store to buy yourself a new armor or weapon, if you do not have enough money, you can use cheats with button 2 and get rich immediately.
Is one of the extremely good fighting game. The task of the player in the game is to accumulate the money in each match, to be able to complete yourself with solid armor, sharp weapons and a good spirit for the next battle. To be able to conquer the peak of a true martial artist.
How to play
Use the mouse to interact.
With graphics not too different from version 1, along with simple gameplay, suitable for all ages. On the weekends, playing with friends and relatives will be an interesting experience that not many people can have.