Swords And Sandals 3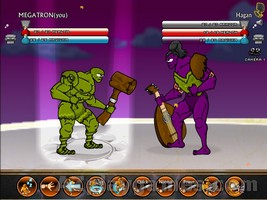 Swords and Sandals 3 is one of the funniest action games. This is the convergence of the arrogant and talented gladiators of the time. The game recreates the battles of the boxers through hilarious attack moves but still with an active style.
The ancient Roman arena has reopened with the 3rd version. Gladiator fighters from all over the earth have gathered here to compete. As one of the boxers will participate in this mortal match, whether you can show your strength or will be defeated miserably. Your mission in the Swords and Sandals 3 game is to defeat opponents in matches to win.
First, we need to create a character to join the arena. Try to beat the boxers to win bonuses and experience points. Use the money you earn to buy weapons, equipment, and skills. Equip characters with weapons and skills purchased in the shop.
Although the subjects equipped with power, weapons, and attacks spread out in front of the screen, if the player chooses the objects that are not suitable for the situation, it will lead to the opponent being prevailed and defeated.
How to play
Use the left mouse button to perform actions and select special moves to attack.