Vex 4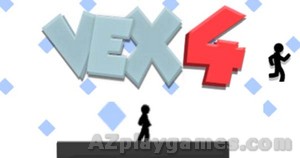 Vex 4
Vex 4 is the fourth installment of the exciting and engaging Vex game series. The task of the game is that you control the stick figure to conquer the roads along with lots of challenging challenges to unlock the next level.
You will skillfully control your character through traps, supports, sharp saws that are always in a dynamic state, sharp spikes, and many other things. To overcome them, you need to use a combination of your abilities such as running, jumping, sliding, clinging to walls, and using objects along the way. These skills all require a certain amount of time for the board to master and combine them skillfully to pass the levels.
Purple blocks will fall if you step on them, but you still need to use it to cross the ramp. The orange blocks help you jump high into the air, through which you can move to the position you want to go. Challenges are created by stationary or moving objects. At each level, the challenges are streamlined and smart. The higher the scale, the harder the challenge.
In each level, there will also appear colored flags. When you touch each flag, they will turn green and save your progress. These flags are control touches, so that whenever you lose your life, you can playback from that position but try to die not too many times, unlocking each level as quickly as possible to carry. Into good players.
Vex 4 game has nine actions and a challenging room, including 30 floors to defeat that promises to bring players a lot of exciting and full of surprises.
The combination of fast-paced, and a variety of funny sound effects accompanied by the movements and actions of the characters, neat and straightforward graphics help players quickly get acquainted.
Challenging adventure games need your reflexes to decide the outcome of each level. You can make your movements as long as you pass the challenges excellently.
How to play Vex 4 game
Use A / D or left / right arrows to move, down key or "S" key to bow, W or up arrow to jump.
Note that if you only use one of the keys, it will not be possible to overcome obstacles, and you need to use a combination of these controls skillfully to form the jump, slide, and grip movements. On the wall can overcome many challenges at each level.