Papa's Freezeria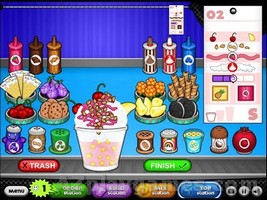 Papa's Freezeria
Papa's Freezeria is a favourite game in the series of papas games. This game simulates the work of a diner serving at the request of customers. In the summer, tourists coming to this tropical island are very crowded, so helping customers with hot food will be highly regarded.
In Papa's Freezeria game, you will become a professional kitchen waiter; you need to prepare delicious food for customers. Your job is to complete orders according to their eating preferences. When customers read their requests, you must memorize those notes quickly to make a perfect cake. The store will be full of ingredients to let you create a delicious cake for customers. It would help if you tried to get the job done in the shortest time and the best quality. Your success is expressed by customer satisfaction.
You have to do it for 47 customers, from the most comfortable customer to the culinary reviewer. Duration is one week from Monday to Sunday.
Cup size includes Medium Cup, Large Cup, Small Cup.
Mixables: Nutty Butter Cups, Strawberries, Blueberries, Cookie Dough, Creamer Bits, Marshmallows, Pineapple, Yum 'n' Ms.
Syrups: Chocolate Syrup, Vanilla Syrup, Strawberry Syrup, Mint Syrup, Banana Syrup, Rainbow Sherbet Syrup.
Blends: Smooth, Regular, Chunky.
Toppings: Strawberry Topping, Chocolate Topping, Whipped Cream, Creamer, Nuts, Cherries, Sprinkles, Chocolate Chips, Bananas, Butterscotch Topping, Shaved Mints, Chocolate Whipped Cream, Cookies, Blueberry Topping, Gummy Onions, Tropical Charms.
In this game there are four areas: order station, build station, mix station and top station. Each order you will fulfil these four stations. Initially, being a chef for you will be a lot of surprises, but doing more will make you more proficient and professional. Remember that the ratings for your order have an overall impact on the score of papas games. This game is challenging on your skill and time management. Are you confident with your skills and dare to join this challenge? Are you ready for your job?
When was Papa's freezeria made?
Papa's Freezeria game is the fourth game in the Papa Louie restaurant management series that was released by Flipline Studios on August 5, 2011.
How to play Papa's Freezeria game
Use the mouse to switch stations, move tickets and sundaes, and drag toppings.