Papa's Cupcakeria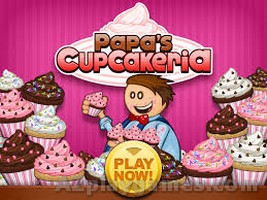 Do you love cupcakes and you want to try making them? Join papa's cupcakeria game. Your task is to listen to customers' requests to create a cupcake that meets their needs. You need to take four actions in turn: order, batter, bake and build.
Order station: you need to listen carefully to the requests from customers and take notes.
Batter station: You start baking here, remember what the guests' requests are.
Bake station: You put the cake into the baking
Build station: In this step, you add topping according to the orders that customers have placed.
When you first play, you may have difficulty making a beautiful cake. But rest assured, as long as you practice multiple times, there will be beautiful cakes to your customers. Wish you have fun!
How to play
Use the left mouse button to play the game.