Bubble Mouse Blast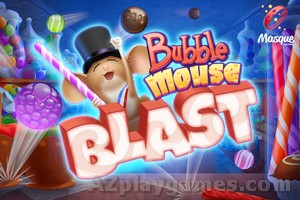 Bubble Mouse Blast is a fun ball shooting game for all ages and genders. On the screen will appear many balls with many different colors. You control the arrow shooting bubbles below. The bubbles appearing in the arrows are also random. You shoot at bubbles of the same color. When 3 or more matching bubbles touch, they pop. You can shoot directly or bounce bubbles off the walls to reach tricky spots. You try to burst as many bubbles as possible before bubbles cover the entire screen.
How to play
1. Use your mouse to aim & click to shoot. Shoot at bubbles of the same color.
2. Use the spacebar on your keyboard to swap bubbles with the mouse at any time.