Bubble Hit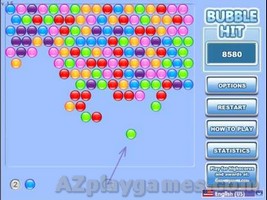 Bubble Hit is a fun ball shooting game for all ages and genders. How to play the game Bubble Hit is similar to Bubble Shooter game. Your goal is to clear all the bubbles from the board, scoring as many points as possible! Aim and shoot down groups of 3 or more bubbles that are the same color. The mouse bubbles you take down with a single shot, the more point you'll score. If you fail to clear any bubbles, you'll receive a foul. After several fouls, a new line of bubbles will appear at the top of the board. The game will end either when you're cleared the board or the bubbles have reached the bottom of the board.
How to play
1. Use your mouse to aim & click to shoot. Shoot at bubbles of the same color.
2. Use the spacebar on your keyboard to swap bubbles with the mouse at any time.