Tug The Table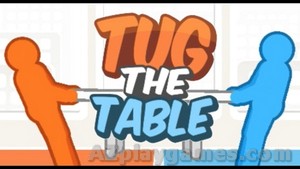 Tug The Table is inspired by the get on top game. You can play 1 player or 2 player. Your task in this game is to pull the enemy to the ground. Sounds very simple right? If you play 2 people it will definitely be fun. This is one of the simple but very fun games. Use your dexterity to push your opponent to fall. You have to be sure, buy time and find the best opportunity to take out the opponent. If you fall, you can start the match again and use that as an experience so you can win the next game.
How to play this game
– Player 1: Use the up arrow to tug.
– Player 2: Use the W key to tug.