Epic Battle Fantasy 4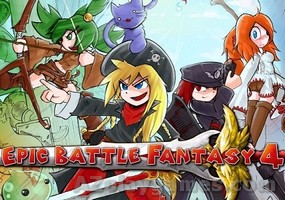 Epic Battle Fantasy 4 is the sequel to the Epic Battle Fantasy RPG series, but here all the heroes meet again for the first time.
A meteorite falls to the earth, blackouts and interrupts the end of the game that Matt just finished playing so he goes out of the house to investigate. He fights with people who have stolen things, continues to the wild tropics to fight and gathers troops to perform important tasks. The party takes an ax from Anna's house and uses it to enter the Mysterious Forest, go through the Mysterious Forest, collect items, fight other Knights, explore and find new missions.
Fighting games with lots of interaction with other games, you can chat with people along the way to exchange and get useful information from them.
There are many enemies along the way, you can choose to fight them or not, but in many cases, it is imperative that you fight them to pass the door or to get treasure chests.
Winning enemies, you will receive valuable rewards, items, and weapons to help you increase your fighting ability.
Fun game suitable for all ages players and compatible with most Android devices, iOS, computers.
How to play
Use the left mouse button to perform the controls of the game such as selecting battle features, taking items, moving.