Moto X3M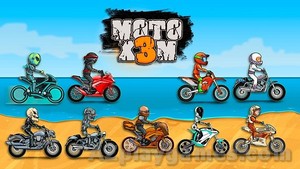 Moto X3M
Moto X3M game is one of the exciting driving games. This game has 22 levels. You need to pass each level to unlock the next level. Each level has different challenges and difficulties. Your goal is to complete each racing level in the shortest time to get the highest score.
You will control your vehicle to perform stunt in the air and move quickly, do not crash into objects on the road. You are moving fast to avoid shark tails or dark alleys is what you have to do. You must drive through the huge traps below.
All challenges and obstacles on the track are very streamlined, so your car can overcome if you adjust the car properly.
When you fly overhead, you need to try to adjust the wheel, so it makes contact with the ground safely. If your body hits an object or your vehicle overturns and loses control, you will lose your life.
In the race you did not know before, you speed up and flexibly adjust your car to land and overcome obstacles safely.
Your score is based on the time it takes to finish your track if you go fast and don't lose your life, you can earn up to 3 stars on each level. Use these stars to unlock and buy different cars.
The game is fast-paced, powerful, and the interface is beautiful, along with vivid sound will give players an exciting feeling.
Moto X3M game is compatible with most devices such as Android, IOS, computers and is suitable for all audiences.
You can play online or download to play anytime and anywhere if you want.
Become the bravest and the best racer, conquer all the tracks, and conquer this game.
How to play Moto X3M game
Moto X3M uses the arrow keys to control your car. Use the up arrow key to accelerate, the down arrow key to brake, the left and right arrow keys to maintain balance while you are flying to ensure a safe landing.
If you only use acceleration, then when passing through a curve or slope your vehicle is likely to overturn or be tilted, then you need to use the left or right arrow keys to adjust the car for balance and continued. When you encounter a broken segment or an obstacle, you need to prepare to overcome, using the down arrow to brake will help you more easily.