Run Ninja Run 2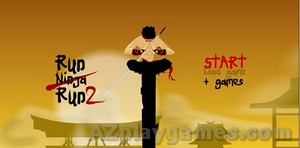 Run Ninja Run 2
Run Ninja Run 2 game is the sequel to the Run Ninja Run. When the ninja is practising, being attacked by a group of other characters, you must break the siege and run fast forward, control him to jump, slide and use the sword to slash the ninja the way before they destroy you.
Difficulties along the way can be houses, walls, caves, and spaces where when you touch or fall into a void, and you will lose your own life. Many pitfalls set in front of you, you have to hurry your eyes to avoid those dangerous pitfalls. It has very fast and dangerous actions that can take your life at any time. In case you lose your life, you will start from that stage.
Run Ninja Run 2 has quite tall buildings that you want to buy double or more upgrades to be able to conquer that work.
The gold bars arranged along the way; you need to collect them to upgrade your ability to jump higher, slide longer or increase your attack ability. These upgrades all require a certain amount of gold to purchase, and without them, you will be quite difficult or sometimes unable to pass another level.
There are many levels with different challenges, each with a very logical arrangement of difficulties and dangers. Providing the breathtaking and fast-paced action of Run Ninja Run 2 game needs you to be able to handle situations flexibly to conquer multiple levels and conquer the game. With the fast speed of the game, will help you the ability to think flexibly and manipulate quickly.
The game gives you interesting relaxing moments, wish you will have fun playing time with this run game.
How to play Run Ninja Run 2 game
Run Ninja Run 2 helps players have fun and challenging playing time.
Use the left mouse button to buy upgrades for ninja methods.
Use the up or down arrow keys to jump up or slide down.