Earn To Die 2012 Part 2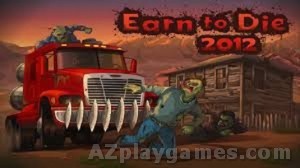 Earn To Die 2012 Part 2
Earn To Die 2012 Part 2 is a game of driving and destroying zombies along the way. You get a call from B-13, they need your help. You use your car to move and kill zombies. Every time you kill Zombies, you will receive a sum of money. You use this money to buy upgrades for your vehicle, and it will go faster and kill zombies easier.
There are many upgrades, such as upgrades on wheels, engines, fuel, …, each upgrade requires a certain amount of money and each upgrade has its characteristics. Information about the value of upgrades and its price are also specifically informed to help you should buy the items you need and still finish quickly.
At the same time, the upgrade also helps you overcome steep and rugged roads, overcome environmental obstacles to get closer to the car parked ahead.
There are many different map terrains including a murky swamp, a destroyed city and all zombies. Every territory has a car at the end of the road, which is the goal to achieve. After receiving the vehicle at the end of the way, you will continue to move on new terrain and buy upgrades for this vehicle.
Use the ability that the vehicle can perform such as acceleration with up and down adjustment of the car to keep balance, to avoid the car overturned on rough terrain. When you buy most upgrades, you will complete that level easily. You will make regular moves every day to achieve the goal of each different territory.
There are many types of cars like police cars, racing cars, trucks and many other exciting things waiting for you in the game. You have to upgrade them, so they move fast and kill many zombies.
The appearance of zombies adds to your interest, they are present throughout the road and always try to cling to your vehicle, damaging the vehicle and reducing vehicle movement. But your vehicle can be crushed or purchased to upgrade weapons to self-destruct.
Game parameters will appear on the screen for easy identification, indicators of fuel, speed and position you move are displayed.
How to play Earn To Die 2012 part 2
Use the left and right arrow keys to adjust the vehicle up and down, the up arrow to accelerate.
You have flexible controls to complete this game in the shortest time.