Zombie Road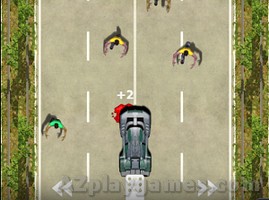 Zombie Road is a combination of two actions of driving and killing zombies. You have to do these 2 at the same time. This seems like a difficult job at all. Specifically, in the game Zombie Road, the player's task is to control the car moving on the road, avoid the rocks and destroy the zombies by crashing cars into them. Watch out for fellow drivers as they purposely chase you, your only hope of survival is to get past them and improve your score by overcoming zombies. Play Zombie Road now and try to kill as many zombies as possible.
How to play
You use left and right arrows to move
You use the down arrow to brake.