Stunt Master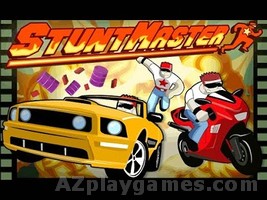 Stunt Master is a motorbike control game to overcome obstacles with all kinds of cars, trains, buses, stairs… quite interesting. Play Stunt Master to enjoy the breathtaking appeal when challenging yourself to "climb" in midair. The game will be an interesting game for those who love adventure sports.
Your task in the Stunt Master game is to control the motorbike at high speed and perform complex tasks such as jumping, turning and stepping while facing obstacles to keep balance without falling and putting. Car forward. The further you go, the more points and bonuses you receive. With the accumulated points, you can unlock new bikes and personalization items.
Stunt Master has many levels to play from easy to difficult and offers a variety of super cool motorcycle models to choose from before starting the journey. This game has a bit of gameplay in an endless runner. Along the track, coins or valuable equipment will appear scattered. Try to collect them all to buy upgrades and speed up, feature support vehicles through the table faster. Challenges in the game are quite diverse, from swinging suspension bridge, giant container, dangerous upside-down bridge, burnt wooden crates… Every action in the game requires ingenuity, calculating the distance to get the momentum. Be obedient so that the rider can overcome obstacles and reach the finish line safely. As long as the character falls off the vehicle, you must play from the beginning immediately.
Features of Stunt Master
– Magnificent context to the heart. You will be able to show your driving in the middle of large air, sometimes up to several thousand meters. Although not looking towards the ground, the game feels like it is a mesmerizing circus in the air. If you are a weak hearted person and have a history of heart disease, you should probably consider it before you play.
– Simple operation. You can easily enter the Stunt Master game when you do not have to learn skill control because it is very simple, you just need to perform up, down, left and right to bring the bike up.
– Unlock new bikes full of fun, dynamic rotation for a true experience
– Awesome motorbike driving games
– Experience the thrill of driving
– High-resolution 3D graphics
– Beautiful adventure racing environment
– Unique, super beautiful motorcycle model
How to play
Use the Space Bar for nitro, wheelie or jump.