Earn To Die 3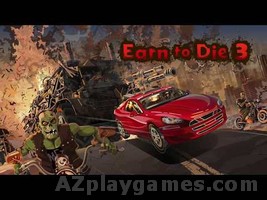 Earn To Die 3
Earn To Die 3 is a game to drive and avoid dangerous zombies.
You must do this by yourself. Driving your vehicle through rough roads can cause your vehicle to overturn and help you fly far to overcome many of the obstacles below.
After each zombie kill, you will receive a sum of money. You use this money to buy upgrades for your vehicle such as fuel, engine, wheels, weapons. They will help you complete the task faster and easier. Each upgrade requires a large amount of money; each device has a lot of different upgrades. You keep moving day by day and back to your garage to buy upgrades.
On the screen, there are indicators for speed, fuel, and position you move. The white line with the yellow triangle in the middle of the top of the screen indicates that you should move when you reach that landmark the next day you start from that landmark.
When you buy most of the upgrades, you will go very far and to where you are ordering another car so you can unlock that vehicle and continue using this vehicle to complete the task: service, upgrades and moves to unlock the next vehicle. There are many types of cars, trucks, sports cars, racing cars and with lots of exciting things, just participating in the game, you will feel the most honest.
Scary zombies appear more and more; they block the road and destroy your car. But do not worry, the car's fast-moving speed and vehicle upgrades will help you kill Be zombies.
The game is full of exciting will bring players moments of relaxation extremely comfortable.
How to play Earn To Die 3 game
Use the UP ARROW KEY to accelerate the car, use the left and right arrow keys to balance the vehicle, use the left mouse button to perform operations.