Moto X3M 2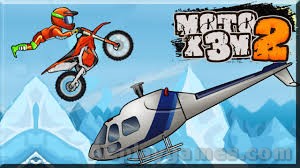 Moto X3m 2
Moto X3m 2 game is the sequel to the popular driving games. In this version, the stunts will be more and more diverse.
You will have to overcome 25 different stages. Each stage is arranged obstacles and very dangerous. You need to pass each step to unlock the next. You try to perform the race the fastest way.
When you start the first race, the timer will automatically run, even if you lose your life and play again at that level.
Start the race with a beautiful car and stylish protective gear, then conquer the speed track with enough obstacles and perform stunt. There are many dangerous obstacles, which can take your life at any time. Those obstacles are narrow roads, bridges crossing roads, gear paths or circles. The only way to win is to overcome those paths.
You can control your car to accelerate quickly, adjust the car so that it makes contact with the ground safely without tipping or hitting anywhere and sometimes you need to use the brakes to go more firmly. It would help if you calculated the acceleration force very accurately, with proper vehicle control and stopping to overcome obstacles quickly.
When you fly overhead, you need to try to adjust the wheel, so it makes contact with the ground safely. If your body hits an object or your vehicle overturns and loses control, you will lose your life.
Every time you lose your life, you will start from the beginning of that race, and the time clock will continue to run. To become the leader of the race, you need to complete the fastest lap.
If you race fast and don't lose any life, you will earn yourself three stars. These stars will help you improve your performance.
The game is easy to play online or if you want you can download it to play anytime.
Try to be the best player and conquer all levels of this game.
How to play Moto X3m 2 game
Moto X3m 2 is controlled by the arrow keys or the A / D / S / W keys to drive. Up arrow key (or W) to accelerate, left and right arrow (or A, D) to adjust the car to help the car land safely, down arrow (or S) to brake.